OMOSATS Exam puts aspiring OMSs' technical skills to the test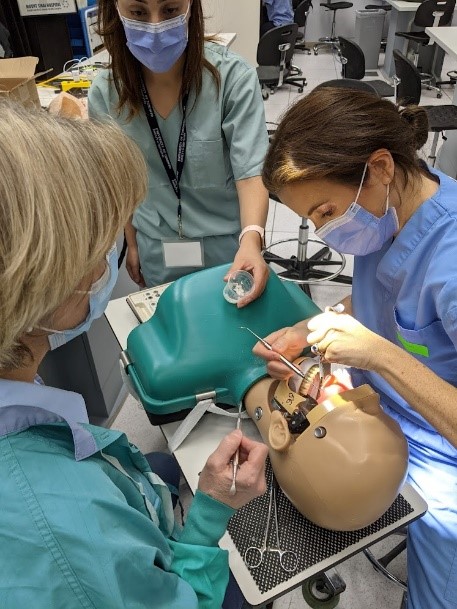 On Nov. 7, 2021, 21 OMS trainees from across North America gathered at the University of Toronto Surgical Skills lab at Toronto's Mt. Sinai Hospital for the Oral and Maxillofacial Objective Structured Assessment of Technical Skills (OMOSATS) exam. Participants included interns, residents, recent OMS residency graduates and current OMS fellows. The goal was to systematically assess their ability to properly execute oral and maxillofacial surgical procedures and to provide practical feedback to the participants and the programs that trained them.
The project was led by Marco Caminiti, DDS, BSc, MEd, FRCDC (OMFS), Assistant Professor and Graduate Program Director of Oral and Maxillofacial Surgery at the University of Toronto's Faculty of Dentistry, and Mark Shuren, DDS, HBSc, FRCDC (OMFS), a trauma surgeon at Hotel Dieu Hospital in Windsor, Ontario. The project was supported by a $75,000 Research Support Grant awarded in 2019 from the OMS Foundation. Safety concerns related to the COVID-19 pandemic delayed its implementation until 2021.
The structure of OMOSATS was modeled on the Objective Structured Clinical Exam (OSCE); participants rotated through eight stations where they were given 12 minutes to perform specific surgical tasks. The stations included high-fidelity models (TMJ arthroscopy, microvascular anastomosis, dental implant placement, knot tying and instrument ID), bench top animal tissue models (tracheostomy and microvascular anastomosis) and low fidelity benchtop models (plate bending, wire placement, suturing, lag screw insertion and bone cutting). Eight fully qualified OMS specialists participated as examiners and were assigned to stations that corresponded to their area of expertise.
The exam incorporated two primary methods of evaluation, a global rating scale and a procedure-specific checklist based on the specific surgical technique being tested. Participants were identified only by their level of training.
After the exam, data was shared with the participants and their training programs, and feedback was solicited to support the project's continued evolution.
"The goal of the exam is to help residents recognize areas where they need improvement and gain comfort in areas they are excelling in," Dr. Caminiti said. "Then, as program directors, we can adjust our teaching, spending more time where students require additional practice. In a sense, the OMOSATS mirrors how well we are teaching – or where we might be lacking."
Lisa Satterthwaite, Senior Manager at Mt. Sinai Hospital's Surgical Skills and SimSinai Centre and a collaborator on the project, agrees. "It's important to show residents that we value their educational needs, aim to remediate skills in a non-punitive fashion to help them meet their goals and offer one-on-one direct feedback to support knowledge-based learning," she says. "Great patient outcomes are our ultimate goal."
To learn more about future OMSOSATS exams contact Dr. Caminiti (marco.caminiti@utoronto.ca).