Meet Christine Hammond, 2016 Kelly Resident Spouse Scholar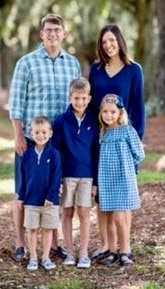 My husband, Jeremy, and I first heard about the Kelly Resident Spouse Scholarship opportunity from Dr. Geoff Zinberg, whose wife Lari was a 2014 Kelly Scholar. Jeremy was excited about attending the 2016 AAOMS Annual Meeting in Las Vegas together; I was more hesitant. I was expecting our third child, and money was tight. But he said, "I think we can do this!"
When my Kelly Scholarship application was accepted, we enlisted my parents to watch our kids, and it was SO nice to get away!
During the morning Health Walks, I met other women who shared my experiences as the spouse of an OMS resident. We talked and laughed, and I learned that I was not alone. The luncheon event was well-organized and fun, and I enjoyed it more having made these initial connections during the walks.
I enjoyed attending the conference with Jeremy and introducing him to the people I met through the Alliance events. It made the conference a shared experience for us, and it's been fun reconnecting with my Vegas conference friends at events we've attended since then. I'm looking forward to Nashville!
With generous financial support from OMSNIC, the Alliance welcomes qualified spouses of OMS residents as guests-of-honor at its events at the AAOMS Annual Meeting and offers up to $1,000 to reimburse documented travel expenses through its Norma L. Kelly Resident Spouse Scholarships. Apply by July 15 at OMSFoundation.org.