Alliance events hit the right notes in Nashville
The OMS Foundation Alliance celebrated its 27th year with a flourish in Nashville, Tenn., raising more than $17,000 for Global Initiative for Volunteerism and Education (GIVE) and welcoming five resident families to the AAOMS community.
With financial support from OMSNIC, the Alliance hosted five Norma L. Kelly Resident Spouse Scholarship winners at the AAOMS Annual Meeting, where they were guests of honor at the Alliance's well-attended daily Health Walks as well as the Luncheon and FUNraiser for GIVE.
At the luncheon, Navy Lt. Cmdr. Bruno Kuloba, DDS, recounted his experiences as a humanitarian healthcare volunteer with Smile Bangladesh and thanked the Alliance for funding the GIVE stipend that covered his travel expenses. Gina Venier, a Nashville singer-songwriter, provided entertainment and delighted the crowd with a song about GIVE she composed for the occasion.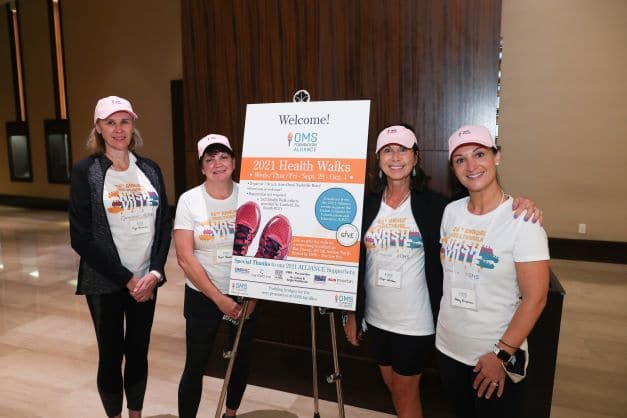 Thanks to generous gifts from Canfield Inc., OMSNIC, Dr. Barry and Lana Hendler and others, the Alliance funded six new $2,500 GIVE stipends in 2021. This year's Alliance Committee included Chair Ellyn Hutton, Vice Chair Stacy Erickson, Past Chair Angie Henderson and Olga Schwartz.